Well, lotsa people got some
nominations
. And congratulations to y'all. But, amazingly, Cinematic Paradox managed to score a couple of nominations: Best New LAMB and Best Rating System.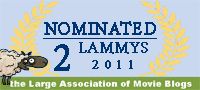 Now, the latter one amazes me, considering those ratings were the result of half an hours boredom at some late hour on a school night. I didn't exactly put much thought into them. Anyway, I am so grateful for the nomination, you have no idea!
I like goats. This one is happy.
Anyway, I totally thought I was gonna get Chris Nolaned (a.k.a snubbed), so this news has been pretty exciting! Now you just gotta help me win! Well, I'm not bothered entirely about winning, because the nominations have been enough. People voted for the 15 year old New Zealander! The one who comes from a town so small it doesn't have one traffic light! Weird, huh?
I guess now is the right time to say "I'M THE SWAN QUEEN!"
This has been all very exciting, but I have study to do. If anyone has extensive knowledge on genetics, I would love some help...